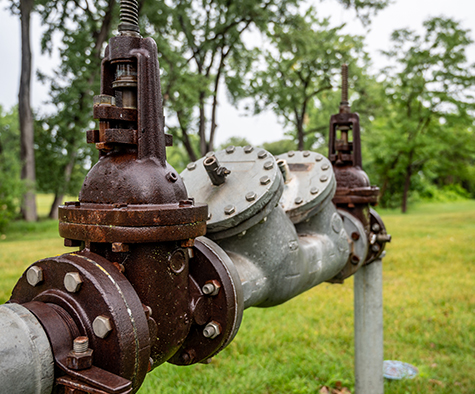 Depend on Hi-Tech Irrigation for All Your Yearly Backflow Inspection Requirements
Is it time to order and install a Backflow Prevention Device (BPD)? Or perhaps your device needs testing? Contact Hi-Tech Irrigation now, and our skilled team will ensure your device meets local code requirements and functions flawlessly. Book your service appointment today.
Choose Hi-Tech Irrigation For All Your Backflow Testing Needs – From Installations to Inspections Our Qualified Team Is Here To Help. Nassau County Backflow Testing | Suffolk County Backflow Testing
Backflow Prevention Device Installation Includes
At Hi-Tech Irrigation, we provide comprehensive Backflow Prevention Device (BPD) installation services to ensure the safety and integrity of your water supply. Our expert team is equipped to handle every aspect of the installation process, delivering professional and reliable solutions. When you choose us for your BPD installation needs, you can expect:
Thorough Assessment: We conduct a detailed assessment of your property's water system to determine the ideal location for the BPD installation.
High-Quality Products: We only utilize top-of-the-line Backflow Prevention Devices from trusted manufacturers, ensuring durability and long-lasting performance.
Precise Installation: Our skilled technicians will install the BPD accurately, adhering to all relevant codes and regulations to guarantee optimal functionality.
System Integration: We seamlessly integrate the BPD into your existing water system, ensuring smooth operation and minimal disruption.
Comprehensive Testing: We perform rigorous testing to verify the effectiveness of the BPD, ensuring it prevents any backflow incidents and safeguards your water supply.
Compliance Assurance: Our team ensures that your BPD installation complies with all local regulations and requirements, providing you with peace of mind.
Ongoing Maintenance: We offer maintenance services to keep your BPD in excellent condition, including regular inspections, repairs, and replacements if necessary.
Trust Hi-Tech Irrigation for professional Backflow Prevention Device installation that prioritizes your water safety and meets the highest standards of quality and reliability. Contact us today to schedule your installation appointment.
Backflow Prevention Device Testing
At Hi-Tech Irrigation, we understand the critical importance of regular testing for your Backflow Prevention Device (BPD) to ensure the continued safety of your water supply. Our comprehensive BPD testing services are designed to provide you with peace of mind and a reliable assessment of your system's integrity. When you choose us for your BPD testing needs, you can expect:
Thorough Inspection: Our experienced technicians will meticulously inspect your BPD, checking for any signs of damage, wear, or malfunction.
Pressure Testing: We perform precise pressure testing to assess the BPD's ability to prevent backflow under various conditions.
Valve Operation Evaluation: Our team evaluates the proper functioning of the BPD valves, ensuring they open and close smoothly without any leaks.
Flow Rate Assessment: We measure and evaluate the flow rate of your water system to ensure optimal performance and compliance with regulations.
Documentation and Compliance: We provide detailed reports and documentation of the testing results, ensuring you remain compliant with local codes and regulations.
Repairs and Maintenance: If any issues are identified during testing, we offer prompt repairs and maintenance services to restore the BPD to its optimal condition.
Trust Hi-Tech Irrigation for thorough and reliable Backflow Prevention Device testing that prioritizes your water safety. Contact us today to schedule your BPD testing appointment and ensure the continued protection of your water supply.
Scheduling your Backflow Prevention Service is a breeze with Hi-Tech Irrigation. Here's how it works:
1. Contact A Specialist
Fill out the form below or give our office a call Suffolk: 631-273-2020 | Nassau: 516-921-2400 and speak to a Hi-Tech Irrigation specialist.
2. Schedule Appointment
We know life gets crazy so we'll work around your busy schedule to coordinate your BPD testing or installation.
3. We're On Our Way!
On the day of your service, we will call you when we are leaving our previous location so you don't have to wait around all day.
Serving Long Island Irrigation Customers For Over 40 Years
Contact Us Today For Your Free Estimate